This course provides you with the Access Code to sit AXELOS' Global Best Practice (GBP) PRINCE2 Agile® Practitioner exam using peoplecert's 'passport' 24x366 online proctored exams service bundled with the training course and practice exams.
† To register for the exam you will have to provide proof that you hold a qualifying entry criteria. They are: PMP or CAPM, IPMA-A/B/C or D or a current PRINCE2® Foundation credential from any AXELOS Examining Institute ( see our full p2 bundle offer).
† To sit the exam you will need a 'suitable' location eg internet connection, undistrubed for approx 3 hours etc.- For details scroll down to, and take the free lesson below.

~~"~~
PRINCE2 Agile is the Best-of-the-best integration of PRINCE2's controls for project based working with agile product development approaches. P2a draws primarily on scrum, kanban and lean start-up with further inspiration drawn from XP, DevOps, SAFe, Crystal, DAD, FDD et.al.
P2A is the migration of agile out of the IT department to meet the world's needs for faster, better cheaper project delivery. The merging of p2's connection to corporate controls with agile's link to value focussed product delivery is a robust broadening of the useful application of both p2 and agile.
NOTE May 2017 - peoplecert unilaterally changed exam voucher validity to 6 months - let me know what voucher start date you want when you book - the relevant lesson explains the process.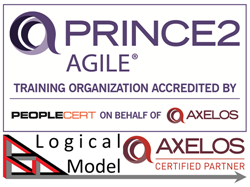 The PRINCE2 Agile Accredited Training Organization logo is a trade mark of AXELOS Limited PRINCE2 Agile® is a Registered Trade Mark of AXELOS Limited The Swirl logo™ is a trade mark of AXELOS Limited