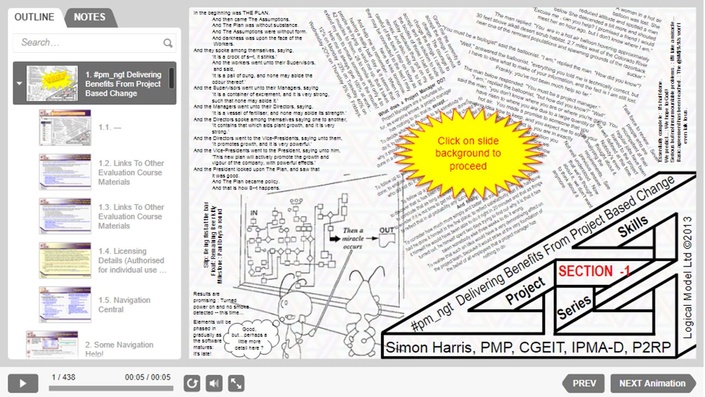 Leading and Managing for Outcomes & Benefits
Advanced tools, techniques, framework, mindset and more for delivering change in organisations via projects, programs and portfolios
Enroll in Course
35 years of my experience in projects distilled into non-exam oriented guidance. A caveat - do the exam courses first.
Why? - Well the exam courses give you the foundations I need you to have to follow the discussions. For example: Should every project build a computerised Precedence diagram and calculate task free and total float?" Absolutely NOT but "Should the whole management team and the resource owners have an appreciation of where the sequence of dependant deliveries runs across seasonal operational work peaks and troughs?" ABSOLUTELY yes! Can we have a good conversation about how you lead the discussion to informally create the awareness in a workshop with senior leaders if I'm also explaining the basics of the backwards pass calculation for a SS dependency? Not in any timescale that is realistic!
This course STARTS where PMBoK-Guide (tools and techniques for building predictive plans), agile techniques (tools and techniques for building teams and iterative product development approaches) and PRINCE2(r)/ MSP (Frameworks for information flows between role holders) end.
By the time your through this we will have added Building vision linked to the profit & loss (income & expenditure in not for profit endeavours) and cascading it in the portfolio context, Networking to create a supportive coalition to build change's momentum. The escalation framework to mobilise senior leaders to act when their authority is needed to ensure their delegated objectives are under stress. An approach to the socialisation that defuses Shock-Anger-Resistance reaction to non-negotiable change and a lot more that applies to Complex Adaptive 'Mess Management' of 'Wicked Problems'.
If you don't know what SS above stands for you need the basics. If you've an idea that Mess Management & Wicked Problems are what your routinely asked to juggle but didn't know others had the labels, the analysis and (some of) the potential solutions then subscribe and we'll explore them together.
Your Instructor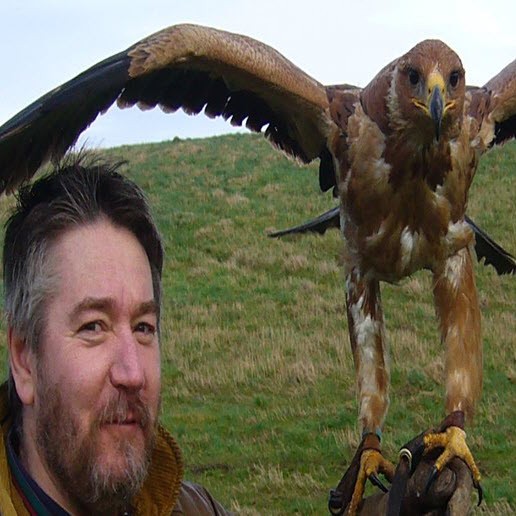 Hi
Ive worked in projects since '79. After a stroke in 2020 i retired. I held & taught PMP when it meant something - In fact i taught a lot of topics like Leading Complex Projects before agile was a thing (and it swamped so lost a lot of what we know) - Now some of that training is online here at a cant be beat price (Free)
Curriculum
[[ use DownArrow at ListEnd if only 1st 24 items shown]]
Early adopter's sneak preview - Full animated course notes (Video recording q4 2019)
Available in days
days after you enroll
Frequently Asked Questions
When does the course start and finish?
Start is as soon as you're enrolled. End may be never, otherwise it is at th eend of the period in which you decide to end your subscription.
How long do I have access to the course?
Subscriptions run for one month or one year and roll-over automtically until you've had as much access as you need and stop them
Outright purchases last forever
What if I am unhappy with the course?
We would never want you to be unhappy so we offer plenty of "try-before-you-buy" free access materials.
An important part of passing exam credential courses, particularly eLearning ones is that you make the personal commitment. We ask you to only buy when you've made your decision. Then know we and you are both fully focused on your success from then on.
We do not offer money back options because when you sign-up with "well I can always change my mind" as your justification there is a weakening to the resolve that is necessary for success - That is not in your best interest if you are to swiftly progress and pass exams.
Other provider's "Money back" guarantees are a way of appearing to reducing 'purchasing risk' by seemingg to to transfer the impact from you to them BUT...
They are common because they use the psychology of regret that recognises you can't get your time back AND asking for a refund implies telling your self "I made a bad choice".
Both reinforce a "I would not have chosen if i knew then what i know now BUT I'll keep going because now it will be a hassle to start again." The likely outcome is your involvement drags on you, progress is slow and may halt entirely.
So please enjoy the free-access materials and confirm we are a good fit and then make your commitment.
Ultimately if you've a genuine reason that is not simply trying to game-the-system then talk to us - we are people too, and we try to be reasonable.
Simon
[email protected]
P.S. maybe you'd like to do our risk management masterclass companion to our Fast-Track risk course. (Both are included in our £5 bundle subscription.) I'm confident no-one else's project risk management has the content ours does. Others pretend risk is impact times probability of a single event single outcome chain. Niave in the extreme but common in text books.
pages/partial/block_faq